---
This post was originally published by Josh Summers on All Things Secured on October 3, 2022.
---
Table of Contents
If you value your personal privacy, protecting and hiding your home address should be a top priority. This is true whether you want to keep somebody from finding you or you simply want to hide your home address online. Thankfully, there are steps you can take based on three levels of privacy that fit your situation.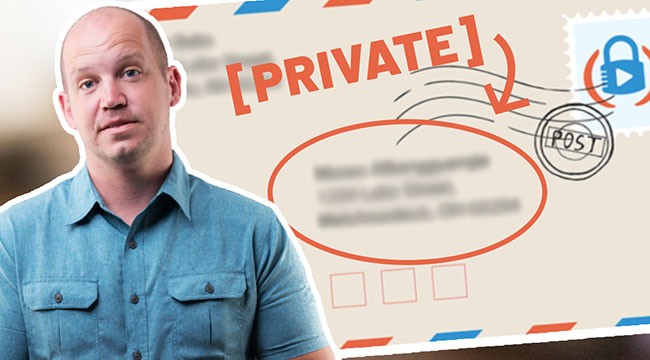 There are so many different reasons – and very good reasons! – why you might want to hide your home address private. You don't have to be a celebrity to care about your right to your privacy.
The idea that anybody in the world can easily find you and show up on your doorstep can be unnerving.
Depending on your desired level of privacy, or paranoia, it might make sense to spend time making not only your home address private, but also make your personal phone number private as well.
I want to discuss three different levels of privacy when it comes to trying to hide your home address.
3 Levels of Home Address Privacy
Quick Disclaimer: The longer you've been living in your current home, the harder this process is going to be. The best time to watch this video is right before you move into a new home, but don't be discouraged if that's not you.
My mantra with any type of security is this: every little step you take is a good step forward.
Note: Some of the links in this article may be affiliate links, which means that at no extra cost to you, I may be compensated if you choose to use one of the services listed. I only recommend what I personally have used.
Level 1: The Reset & Remove Your Home Address
To start off, we need to take a hard look at how your home address is currently being used, both by you and by others.
For example, if you jump onto WhitePages.com and search your name and current city, you'll see what kind of information they have about you. I did this and found that they had my last known home address, last known phone number and a few other pieces of info.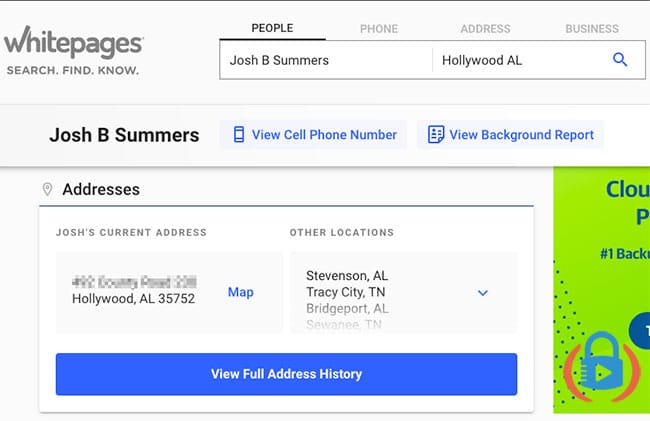 For free.
Readily available.
Step 1: Remove Home Address from Scraper Sites (500+)
I copied the URL to that personal page and went to the website's Opt-Out page and asked that they remove my listing, which they did within 24 hours.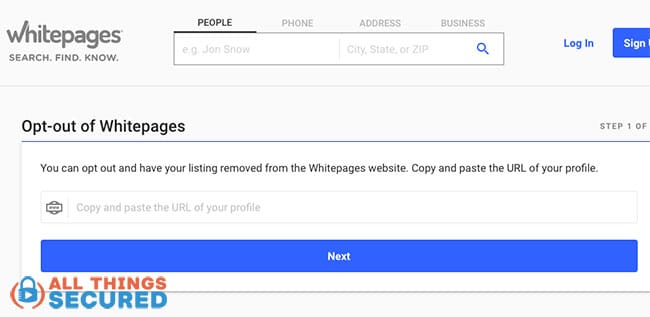 The good news is that the whole process took me 5 minutes. The bad news is that WhitePages isn't the only one you need to worry about.
You need to check many other sites and opt out of allowing your information to be displayed. Here are links to a couple opt out pages for some popular services:
COMPLETELY Remove Your Personal Data
There are 500+ websites which collect and sell this kind of personal data. Instead of trying to find them all, I recommend using a service like DeleteMe to do it for you. Use the promo code ATS to get 20% off.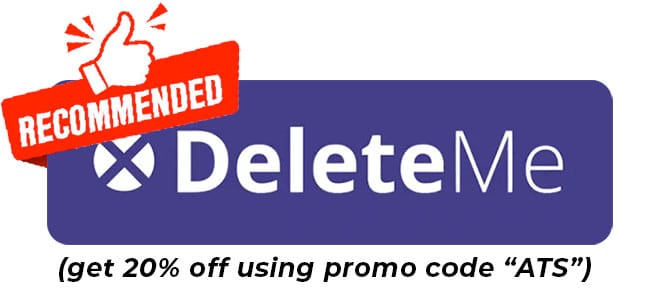 I've personally used this service and did a full review of DeleteMe here.
Step 2: Monitor & Scrub Your Home Address from Your Accounts
It's also recommended that you do a Google search or set up a Google Alert with your name in quotation marks and a portion of your address in quotation marks to see where else your address might be available.
The next half of this first step is to find places where you have listed your own address, whether that's on social media, with Google, or even with your bank, and to change it.
Of course, changing the address requires you to have a different address you can use.
And that's where level two of how to hide your home address comes in.
Level 2: Rent a New Virtual Address
As part of level two, we're going to acquire a new, somewhat anonymous address we can use instead of our real home address.
Some people recommend a P.O. box, but personally don't like this option because:
It limits what kind of mail I can receive;
It's inconvenient. I don't want to have to go pick up my mail somewhere else every week and I definitely don't want to be constrained by when the post office is open or closed.
So the best option, in my opinion, or at least the one that I use, is known as a virtual mailbox.
A virtual mailbox is a digitized version of your physical mail.
There are a number of companies that offer this including US Global Mail in the US or iPostal1 for international addresses, but I've been using one called Traveling Mailbox for the past six years and it's been great.
How a Virtual Address Works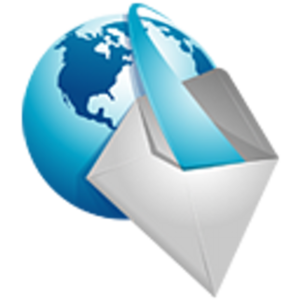 When I subscribe to the service I am given a physical mail address that is able to receive pretty much any kind of mail including:
Magazines
Letters
Packages
…or whatever else.
I can set it up under my personal name or under my company name, if I want extra privacy (or both, as you can see I did below).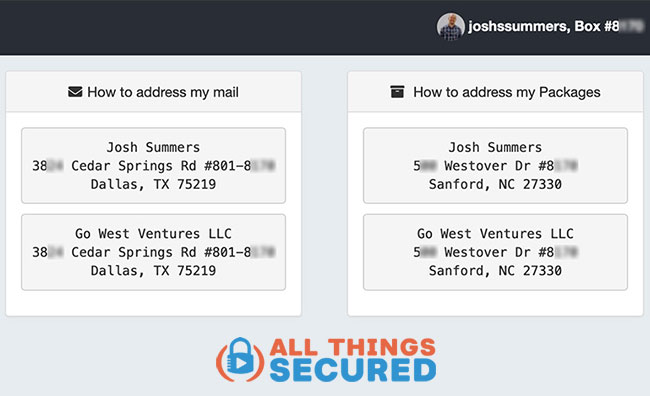 When mail is sent to that address, I receive a notification and an initial scan of the front of the piece of mail. I do this on an app on my phone, but you can also log into the website portal to do it.
This is what it looks like when I log in from my laptop computer…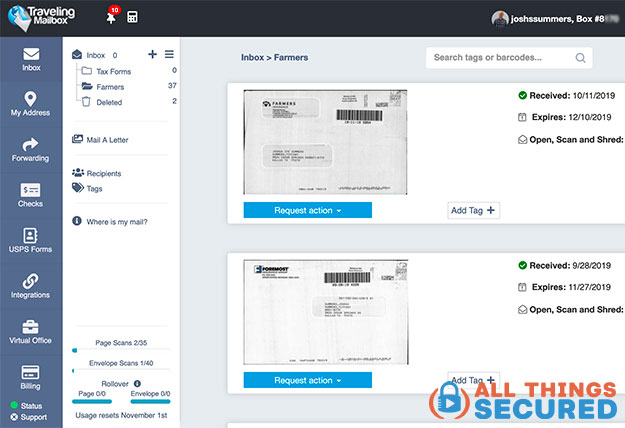 …or on my cellphone.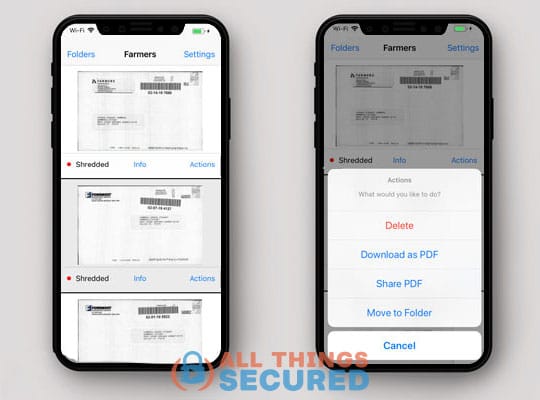 From there, pretty much all of these virtual address services can do a number of things for you including:
Opening/scanning the letter;
Forwarding the mail to anywhere in the world;
Depositing a check;
Shredding the mail.
With Traveling Mailbox, I can give out this new address and still have control of the mail that goes there. And best of all, my home address is completely hidden in the process.
Get Your Own Virtual Address
Get special discount pricing here:
As you can imagine, there is a fee involved in having this second address, but I've found it to be worth the extra privacy and control, especially as somebody who lives as an expat overseas.
Right now, the only time I give out my real address is if I'm working with the government or I'm inviting somebody over to my house.
Level 3: The Privacy Trust to Hide Your Address (Paranoid!)
Ok, with these two steps done, you're light years ahead of most people in regards to home privacy. But believe it or not, this rabbit hole keeps getting deeper.
Let me warn you that this step three is not for the faint of heart. It requires a significant investment and a dedication to privacy that even I don't have. But in some cases it might be the right course of action for you and if that's you, I recommend you connect with a legal expert to help along the way.
The foundation of this step is setting up a privacy trust that will hold most of your assets, from your personal residence to your car or any other vehicle.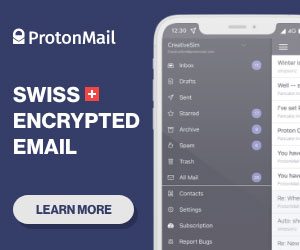 This is the kind of strategy that many celebrities and wealthy people use to hide the location of their personal residence or even what they own. Because it's not in their name, or using their home address.
It's in the name of the trust.
Setting this up costs anywhere from about $5,000 and up, depending on a number of factors, and needs to be done by a legal professional. It's also best to start when you're in the process of moving to a new address, that whole idea of "starting fresh".
Final Thoughts | Hiding Your Home Address
At the end of the day, in order to hide your home address the best thing you can do is get to a place where you never write down or give out your actual home address unless absolutely necessary.
If you follow the steps outlined here, at least the first two, that means two things:
Scrubbing Your Address Online: Remove the address from your social media sites and any other accounts that don't absolutely need to know where you live. This also means erasing your address from data mining sites, which is where a service like DeleteMe becomes invaluable (use promo code ATS for 20% off)
Purchasing a New Virtual Address: Once you've removed your current address as best as you can, next you will need to purchas a virtual address that you can use from now on.
It's not only a smart idea from a privacy standpoint, it's also a very convenient way to control your physical mail and cut down on the spam. See how it looks here:
Be sure to subscribe to the All Things Secured YouTube channel!
DeleteMe was created in 2010 when we realized the difficulty of navigating privacy issues in today's interconnected and digital world. Our mission is to provide everyone with the power to control their digital identity.
Don't have the time?
DeleteMe is our premium privacy service that removes you from more than 30 data brokers like Whitepages, Spokeo, BeenVerified, plus many more.

Save 20% on DeleteMe when you use the code DIYPRIVACY.
Hundreds of companies collect and sell your private data online. DeleteMe removes it for you.
Our privacy advisors: 
Continuously find and remove your sensitive data online
Stop companies from selling your data – all year long
Have removed 35M+ records of personal data from the web
Special Offer
Save 10% on any individual and family privacy plan with code: BLOG10
Related Posts
We originally published this post on our Online Privacy Blog, but we've updated it here as the st…
We originally published this post on our Online Privacy Blog, but we've updated it here as the st…
As Don Draper says, "If you don't like what they're saying, change the conversation." …